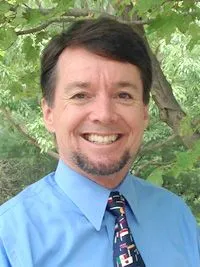 Dr. Harald Kowa has been a well-known and popular Pediatrician in Asheville since 1991. He founded Blue Sky Pediatrics Asheville in 2009 with the vision of the practice focused on "Happy Children". His goal was to have a practice that works with parents to support their child's best health and sense of well-being. He believes every parent and child needs personalized attention to be sure each child is happy. He is currently the owner and Managing physician.
Dr. Kowa is a graduate of the University of Florida College of Medicine in Gainesville. He completed his Residency in Pediatrics at Thomas Jefferson University Hospital in Philadelphia, Pennsylvania. Dr. Kowa is a member of several boards and committees dedicated to better community and healthcare services for children in the Asheville area.
Dr. Kowa and his wife, Karen, are the parents of four children. When not spending time with his family, he enjoys biking and following the Florida Gators. He is proud to have completed cycling the entire Blue Ridge Parkway over 6 consecutive days and has completed several of the most difficult Century bicycle rides in the area.
Dr. Kowa is a very competent and respected physician and loves coming to work to "play with the kids." He enjoys seeing children of all ages and takes a special interest in children with learning and behavior difficulties. He was also the leading physician for the effort to provide mental health services to be available in the Pediatric office setting.