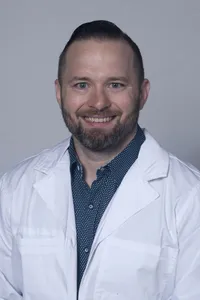 Joshua B. Alweiss, MD joined Blue Sky Pediatrics in 2021. He was born in Miami, Florida. He attended Indiana University with a Bachelors of Science in KInesiology. He graduated from Ross University School of Medicine in Dominica, West Indies, and completed his residency inPediatrics at the University of south Alabama Children's and Women's Hospital. He is a Board Certified Pediatrician with the American Board of Pediatrics.
Dr. Alweiss and his wife, Dara, are the parents of two young, active sons. He enjoys fitness, snowboarding, skateboarding, and LEGO. They have fallen in love with the mountains of Western North Carolina and plan to raise their sons here.
Dr. Alweiss has a special interest in the care of the newborn including neonatal abstinence syndrome and breastfeeding promotion. He also enjoys seeing patients with behavior and developmental conditions such as ADHD.
Before joining Blue Sky Pediatrics, Dr. Alweiss practiced at Harris Pediatric Care in Sylva, NC. He brings with him several years of experience and great patient reviews.