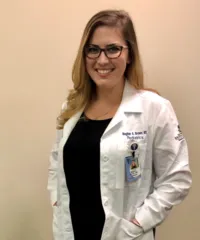 Dr. Brown grew up in Orlando, Florida. She attended Florida State University, where she earned a Bachelors of Science in Biological Sciences. She graduated from the Florida State University College of Medicine and completed her Pediatrics Residency at Prisma Health Children's Hospital-Midlands/University of South Carolina School of Medicine in Columbia, South Carolina.
During her training, she has recieved numerous honors and awards, including the top award for her quality improvement project from her institution. She has been a strong leader in her residency program including serving on several committees and teaching other resident physicians and medical students.
Dr. Brown is particularly drawn to children's mental health care. She enjoys taking care of children with complex medical needs. She feels it is an honor and a joy to take care of all pediatric patients.
Dr. Brown has spent a great deal of time in Asheville over the past several years. In her spare time, she enjoys hiking, floating the French Broad, and exploring local restaurants with friends. She is warm, friendly, and gracious. We feel lucky to have her as part of our Blue Sky Family